Motivation.

That is what's been bothering me lately. And, I'm not talking about my own motivation, though it has waxed and waned these past few months. The motivation I'm referring to is that of my characters.

I'm a blackbelt panster. But for the first time, I outlined a story from start to finish. It's a basic outline using index cards for chapter headings and I managed to plan out the general plot. What would have taken a plotter one afternoon to finish, took me over a week, nevertheless finishing the outline is pretty exciting for me.

Though painful as it was, outlining allowed me to answer the questions one must ask while drafting a story:

The Who (identify and name my main and secondary characters through basic character profiling)
The What (what each of my characters do and their importance within the story)

The When (the present)

The Where (Earth)

The How (how my characters accomplish the things they need to do)

The only question I haven't been able to completely nail down is The Why. Why are my characters doing all this awesome and scary stuff?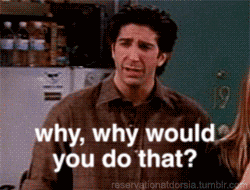 What motivates my characters? What drives their actions? It's the most important question to answer and it must be believable to the reader. The answer to this will be the driving force throughout the entire book and it will dictate how characters respond to, well, everything in the story.

I've been able to answer The little why, in the immediate sense, their day-to-day motives, but The BIG Why, which is anchored in backstory, is still unclear at best. Without The Why, then everything else in my story unravels at the seams. If I can't convince the reader what motivates my characters, then what's the point of reading on?
Gosh Batman, this writing stuff is hard.
****
Many thanks to Alex Cavanaugh our IWSG super-host and his awesome team of co-hosts this month. To find out more about the IWSG monthly bloghop, or the IWSG website, feel free to click the highlited links or the button on my sidebar.